Right about now, you are probably asking yourself...
"OK, so WHO are you and what can you do for ME?"
Well, keep reading and we'll get that answered for you!
In 1984, we met, fell in love, and got married in just a matter of a few months. Like everybody else, we had regular jobs and struggled from day to day and week to week just to keep ourselves with a roof over our heads and food on the table.

Late in 1985, our neighbor asked if he could share something with us. To make a long story short, he introduced us to a Network Marketing company. Needless to say, after listening to him for about 15 minutes, we were hooked.
We suddenly realized that there was a way to have not only more money, but more time freedom. No longer would we have to live paycheck to paycheck wondering if the money would run out before the month did. Even though it was all we could do to make ends meet and we had NO idea what we were doing...
Only one word could describe how we felt - EXCITED!
In those days, there was no internet and no flat-rate long distance - long distance cost 45¢ a minute - no cell phone with unlimited long distance either. Can you believe it? Sounds like the dark ages, doesn't it!
So first you tell all your family and friends - and of course none of them are interested because they KNOW you you are definitely NOT an expert, so why would they listen to you?
We learned the old "3 foot rule". You know, tell everyone that comes within 3 feet of you about your "opportunity". Hmmm... that's a sure way to make sure that no one ever gets within 3 feet of you again.

As the years went by cheaper long distance was introduced. We learned how to do something known in the networking world as "Dialing for Dollars" or the "Smile and Dial" method. According to our upline, all we had to do was buy opportunity seeker leads and make cold calls to people who don't have the slightest idea who we are. Now we don't know about you, but cold calling is NOT something we enjoy.
In all fairness, we do know marketers who prefer this method still today, but for us... it's just a lot more fun to have people calling us and ASKING US about our business!

Oh yes, somewhere in there we got our very own fax machine! Now we could send a flyer by fax to every fax number we could find. Of course we never thought about the fact that we were using up other people's fax paper without their permission... that is, until it started happening to us.
Nothing like the phone startling you awake at 3 a.m. and when you answer it, it's not a family emergency... it's a fax from someone you don't even know sending you something you NEVER asked for. We learned this lesson REALLY quick!
You may or may not remember when the Internet became available for "regular folks". We'll never forget the first website that we saw that wasn't a dreary gray background with black Times New Roman text.
This website was in FULL color, not only had pictures, but the pictures were MOVING! And to top it all off, if you had speakers, you could listen to music that sounded just like "Fly Like An Eagle" (Steve Miller Band) while you read the information. It was UNBELIEVABLE!
Of course in those days everyone thought that SPAM was that meat stuff you bought in a can at the grocery store, so we emailed everyone that we could find an email address for and invited them to join us in our business. Imagine our surprise when we tried to log on one day and we couldn't... our account had been shut down for SPAM. We didn't even know what they were talking about.
Sounds like we've made a TON of mistakes over the years, doesn't it?
You know what, you're absolutely RIGHT!
Let's face it, when you do all the wrong things first, you now know what NOT to do again! It's never wrong to make a mistake, it's only wrong to keep making that same mistake over and over again and expecting new results. And the most important thing that brought us where we are today? We NEVER gave up and quit. It's as simple as that!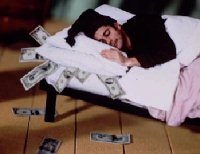 We continued to believe in the concept of Network Marketing and wanted ALL the benefits it had to offer. We continued on through trial and error until we figured out what did and didn't work. And the beauty of it all... with today's technology, it's runs almost on auto-pilot.
No matter where we are or what we are doing, our system is doing the majority of the work for us! Now we actually enjoy talking to prospects because they are calling us.
Now you know a little bit about us, so let's answer the other part of your question...
"What can you do for me?"
By subscribing to "The FUSS", our FREE private newsletter, you can benefit from all of our experience of all the years it took us to find the right way to market successfully. Who was it that said...
"A wise man learns from his own mistakes.
A wiser man learns from the mistakes of others."
If you are already making all the money you need and have all the time freedom you want, then there's probably nothing new that we can share with you. But if you're not where you'd like to be yet, we invite you to try our system for yourself.
Now that raises another question...
"Why are you offering this information for FREE?
Where's the small print? What's the catch?"
There is absolutely no strings attached. No "small print". There's no book to buy.
This system will work with any opportunity that you are currently in or ever will be in. It doesn't require that you join a new one to make it work.
Your email box will not fill up with tons of unwanted offers. You can "unsubscribe" at any time you choose by simply clicking on a link at the bottom of the newsletter.
You see, we know 2 things:
1. You reap what you sow. When we sow good things, we reap good things. It's a Law of Nature.
2. We know the only limits a person has are the ones you put on yourself... Most fortunes are made when average people with above-average desire find themselves in the right place, at the right time... recognize it, and take advantage of it!
That's it... it really IS that simple!
So, if...

...you have the desire to be free, to live your life the way you've dreamed it could be

...you're serious about making money from home

...you've struggled to make money on the internet and are tired of failure

...you want to learn how to work smarter instead of working harder

...you'd like to know how most of your business can run on auto-pilot

...you're looking for a system that really works and someone to help guide you through it
Go ahead...
Enter your name and
your real email address below.
We hate Spam as much as you do and promise
that your information will not be shared with others, ever.